Let's Get Your Silicon Valley CA Home Sold For Top Dollar!
Free Silicon Valley Selling Guide
Selling a home can be overwhelming, but with Lori Lochtefeld's expertise has put together the essential resource pack to make it easier. Sign up below and receive these great resources on how to sell your house in the least amount of time and get the most amount of income.
Simply fill out the form below with your name and email address and receive your Free Seller Package today!

Sell my Home in Silicon Valley CA
Are you trying to figure out if this the time to sell your Silicon Valley, Ca home? Currently, our market is hot. There are more buyers than homes available right now. Interest rates are at an all-time low and there are people looking to own a home in our area.
Check Your Home Value Now Instantly
Now is a great time to sell, and with Lori Lochtefeld's superior skills and experience, you can have the support you need to sell when you want and for the price you deserve.
Negotiating the Sale of your Silicon Valley Home, CA
Negotiating on your behalf to create a bidding frenzy and drive up your final cost is something you want when you are trying to sell your Silicon Valley home. Lori Lochtefeld has years of this negotiating experience and the skills that will allow you to get the price for your home that you deserve.
Our 100 PT Marketing Plan for Your Home in Silicon Valley CA
Our marketing plan for homes in Silicon Valley, Ca drive people who are in the market and those who are ready to purchase TODAY! I have mastered marketing in over 101 ways to drive qualified borrowers to your home with my specific online and offline techniques.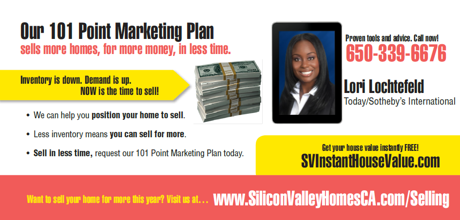 As a member of a special Top Producer Group, we are trained to get you top dollar for your home using advanced online offline integrated systems. These methods are proven to produce results. Fill out the form below to request complete details.
Customer Service Expert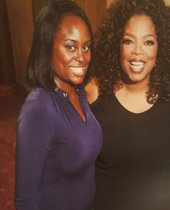 You are a top priority. Communication is the key to successfully selling your Silicon Valley, Ca Home and I work hard to ensure that you never feel out of the loop. Keeping aware of everything that is going on is crucial in order to get your home sold for the price that you want. I provide a daily report to you so that you stay afloat of all things related to your house. You will never wonder what is going on because you will always be in the know.
Lori Lochtefeld - Fox Theatre Interview Peninsula TV
One on One - 1055 - Eric and Lori Lochtefeld from Peninsula TV on Vimeo.
Getting your Silicon Valley Home ready to be sold
In this market, working with a professional home stager is a must! I work with the best of the best of home stager professionals to prepare your home for showing. First impressions are crucial when selling your home, and a professional will make sure that your home as at its best from the moment a buyer pulls into the driveway. Whether, it's a fresh coat of paint, paintings for the wall, or a change in décor, I am there to assist you with all your needs.